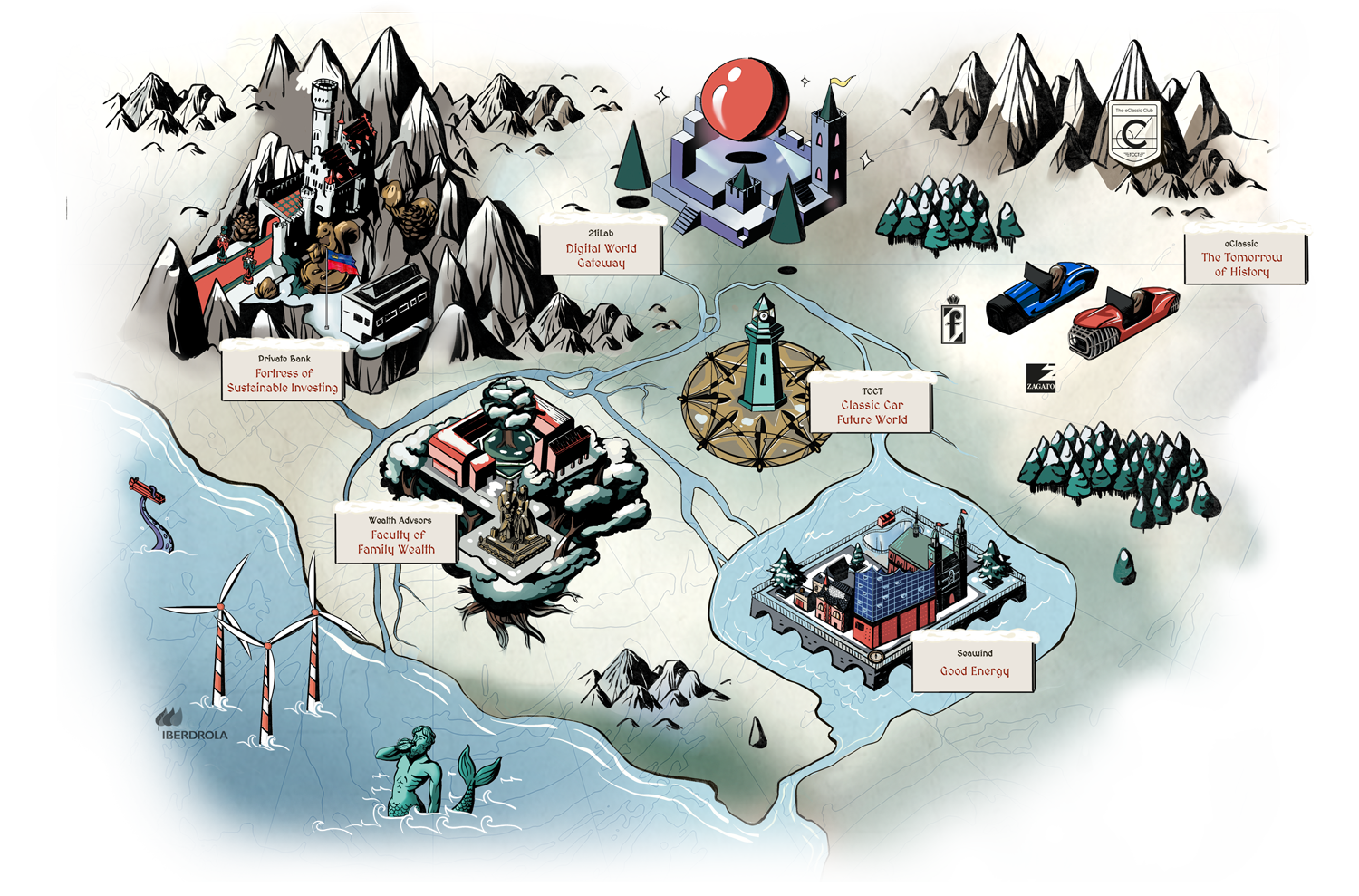 Fritz Kaiser Group – Fantasy world illustration
Take a short breath. The best is yet to come.
Welcome to my New Year 2022 thoughts, and to an update on what's going on in our family business.
Just one more quarantine and it will be spring. I would like to thank the politicians, the scientists and the pharmaceutical industry that we will soon be able to enjoy life properly again – as pandemic gives way to the new normal of endemic and the world turns a little easier. 
Over the last two years I have been wondering if evolution has been taking a break, while my inner voice has simultaneously been questioning the meaning of life more loudly. This has only strengthened my personal philosophy: don't ask for the meaning of life, give it one! 
And since we can't help thinking, why not think positively? For me, a slower pace of life has brought some good things, while boosters are helping me dream better. I'm currently boosting my digital knowledge so I can keep up with the rapid evolution of smart work, the cloud, 5G, artificial intelligence, crypto-currencies and NFTs. The intergalactic dreams of Elon Musk, Jeff Bezos and Richard Branson are offering the booster of space travel, which is pushing back the boundaries of the possible. We no longer have to think that "the sky's the limit" but can dream that there is no limit. 
The bad news is that time is flying, but the good news is that we are the pilots. However, the reality in which we live sometimes seems tough; it is often gray and complex and demands multidimensional thinking, courage and commitment. If we look at the world through colored glasses, green is now the way governments are moving, while the risk monitor has moved to dark amber owing to the pandemic, the tensions in world politics, supply chain problems and growing cyber criminality. 
With a healthy dose of optimism, I wonder where our world is heading as democracy and autocracy battle it out, and as digital platforms simultaneously unlock enormous political and economic power. How will familiar personal, governmental and economic boundaries evolve in the borderless virtual realm? How will real and virtual worlds continue to merge? And last but not least, I wonder how we can make profitable and responsible use of the opportunities brought to us by digital disruption so that we can all – to paraphrase Friedrich Nietzsche – happily and joyfully dance our own real lives.
Trust your gut feeling.
These days, economic ecosystems and communities of like-minded people function as important, independent small worlds that represent a kind of home for the relevant interest groups. In times of harsh ideological dispute, lighthouses for what is right and beautiful are more in demand than ever, especially if they promise sustainable growth on the right side of global change. 
In a complex world we would do well to listen to our gut feelings when making decisions that affect the course we are on. Heart and mind together form an essential basis for trust – the soul that makes value-systems great. 
Trust is contagious.
As a group of companies, we have successfully and profitably coped with year two of the pandemic and are entering the new year with positive hearts, and minds, as well as healthy ambitions. We are dealing with an exciting and enjoyable diversity of themes, and for 2022 we are playfully visualizing ourselves as a village in a fantasy world. Visitors are very welcome virtually and, of course, in person.
As a diversified family business, we work in various areas with entrepreneurs, wealthy families and strategic partners on an equal footing. Commitment, sustainability, trust, fairness and responsible foresight are important values and guiding principles. At the same time, we are constantly looking for innovations for our customers, our partners and ourselves. There are plenty of opportunities for this. The megatrends of the years to come are approaching us like slow-motion avalanches, turning entire industries upside down and influencing all areas of our lives.
People make things happen. I am proud of the many great people who work with us, with all their individual characteristics and wonky edges. After all, diamonds are not round either. 
We are looking for more outstanding people who will fit into our village community and who want to share our journey. And, we are interested in companies and ecosystems that we can connect with intelligently. Interested? You can learn more here.
A brief overview of what we are doing now.
In 2009 Kaiser Partner Privatbank became one of the first banks to sign up to the United Nations Principles of Responsible Investment (PRI). "Greenwashing" is an alien concept to us. Security allied to responsible and sustainable investment is our mission. Zurich-based Kaiser Partner Financial Advisors, a subsidiary of the bank and a long-standing investment advisor registered with the SEC in the USA, has had great success with American clients. Our outstanding 10-year investment performance proves that our philosophy pays off for our clients. And it works for us too. Assets under management have increased 14% over the last year, while profits have doubled. The outlook is promising. In 2022, we also plan to take a further step into private equity investment, as well as getting to grips with crypto-currencies and NFTs.
The Kaiser Partner Wealth Advisors Group in Vaduz and Zurich, which can trace its history in the Liechtenstein trust business back to 1931, is now one of the leading advisory companies for entrepreneurs and wealthy families. These people work with us because we understand that wealth is more than numbers. Of course we understand all the figures, laws, international rules and complex structures. But we also understand that wealth has a lot to do with emotions and ambitions. For 2022, the government of Georgia, has commissioned us, together with Rothschild & Co to develop a national strategy for the country as a financial hub. 
In Poland, our Seawind Holding has a partnership with Spanish energy company IBERDROLA, the world market leader in renewable energies. We are working together on an early-stage renewable energy project portfolio totaling around 10 gigawatts off the coast of Poland. In 2022, we will participate for the first time in the Polish government's competitive tender process for wind farm construction rights. We are competing there with the big players of the energy world. We are prepared, well-positioned and full of confidence.
21iLab is our own internal digital agency. Cyber-crime sits high on our risk radar and we are constantly developing new protection strategies. At the same time, the digital universe offers unimaginable opportunities, so having our own portal between real life and the digital world is an important key to success. 21iLab is going to be busy in 2022.
TCCT The Classic Car Trust published "The Key 2021", the 4th edition of its yearbook, in December and sent it out to the worldwide community of classic car collectors and lovers. With lots of insider stories, a market cockpit and a ranking of the 100 most important collectors in the world, it has been received with thunderous applause, which is very gratifying. The book, almost 300 pages long, is our gift and our contribution to a healthy future for this market in automotive passion.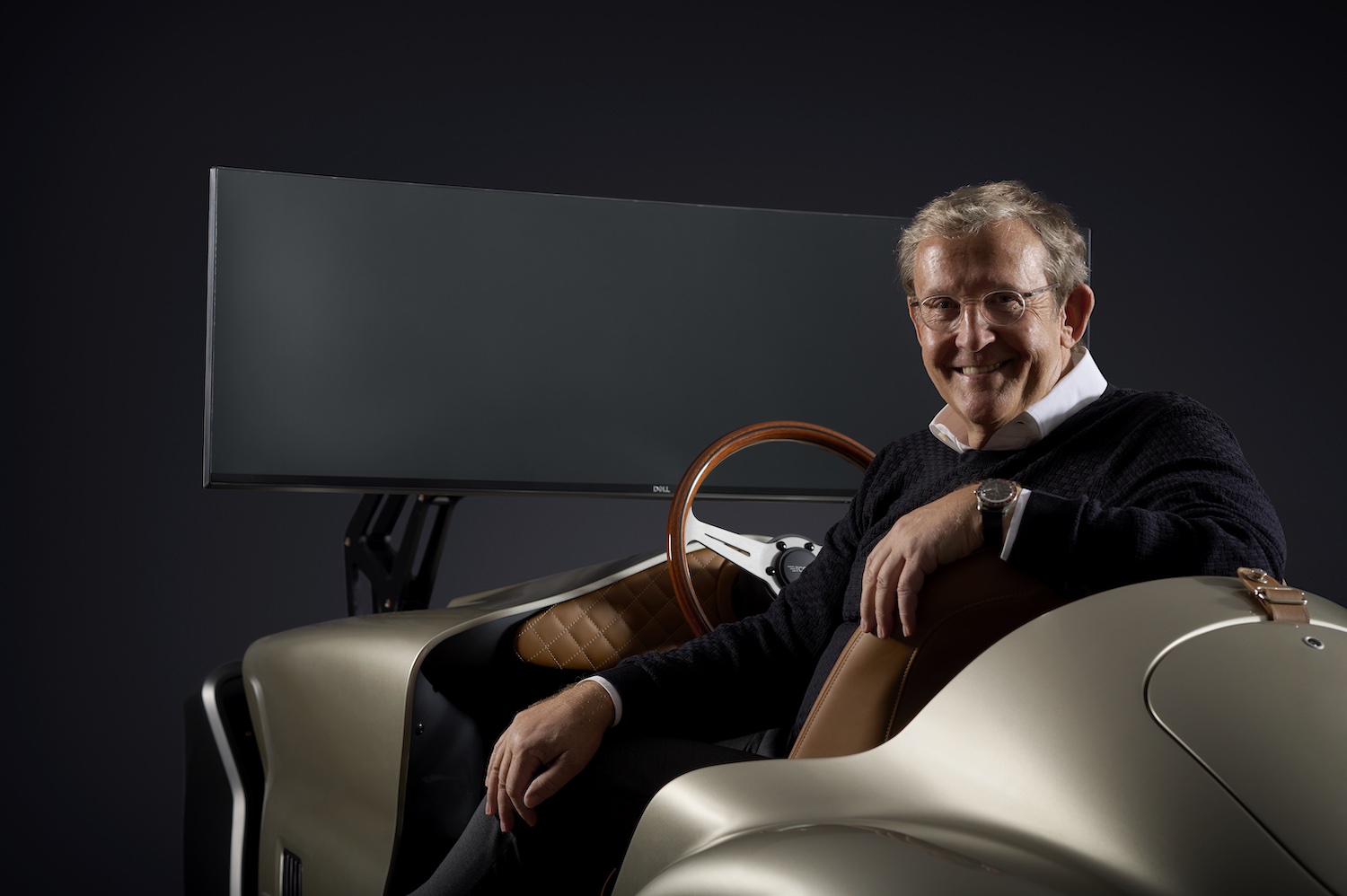 Fritz Kaiser with the award winning Pininfarina Leggenda eClassic Simulator
eClassic. In September 2021, we presented our new business model for Switzerland and Italy in St. Moritz. The fourth dimension of classic car passion. We can sit in our living rooms and drive the greatest classic cars on iconic racing tracks. In style. Alone or with friends. With the high-quality classic car simulators that we have developed together with designers Pininfarina and Zagato and simulator technology
company Racing Unleashed. The limited "Leggenda" version of the simulator by Pininfarina has just won the renowned international "Good Design Award". And number 1 of the Collector's Edition was sold at an RM Sotheby's auction for CHF 192,000. We closed the 2021 financial year with a profit, and things continue to go forward at pace. Especially in Europe.
Numerous personalities such as Paolo Pininfarina, Andrea Zagato and Marella
Rivolta Zagato, Francisco Fernandez, Michael Ringier, Erik Brenninkmeijer, Kurt Engelhorn and Ronnie Kessel are helping us widen the initiative as Founding Members of the eClassic Club. In 2022 we plan to stoke our passion for classic cars – real and virtual – with an attractive club program.
Warm wishes for a fulfilling 2022 
January 2022, Fritz Kaiser